THE LARK
America's finest light duty utility work boat!



20' x 8' x 3'
Standard package comes with the following:
All 1/4" steel hull with 1-18" flushed mounted access hatch.
Rake on bow with 12" head log.
4-18" solid steel kevels.
Single outboard adjustable motor bracket.
3' Push knees.
3' wide control stand.
Outer hull coated with Bar Rust 235 in haze gray, salt resistant 2 part epoxy.
Available Options:
4' x 4' x 7 1/2' Pilot house as seen in picture below
Rubber bumpers on push knees and across head log
Steel rub rails one per side
Push knee stubs below deck with rubber
Deck winches, 2-2ton hand crank Bebe's
Internal spud wells 4" to 6"
Outboard motor guards
6' telescopic davit with 1500 lb winch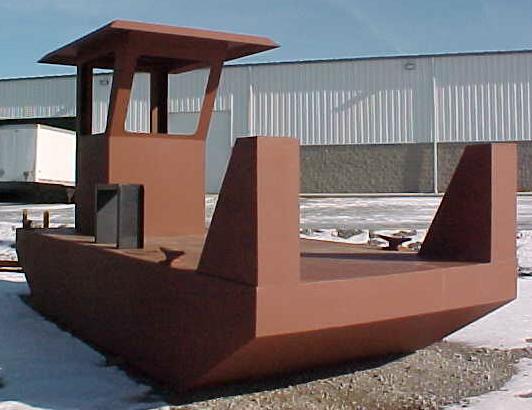 The Lark weighing under 8,000lbs can be transported behind a pickup truck. These light weight work boats are still stout enough to be used and abused like the inboard pushers, but has a lighter draft and allows work to be done in very shallow water. Average draft on our standard Lark is 16".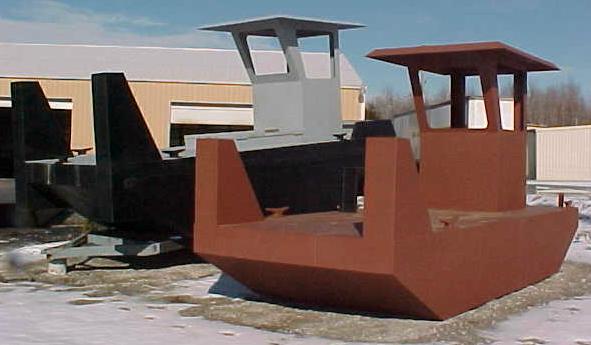 Atlantic Testing Laboratories
The picture below shows 4 of several standard 20' x 8' x 3' Larks used by ATL in Canton,NY.
Notice each rig has 2 std. Larks connected together with our sectional connector system.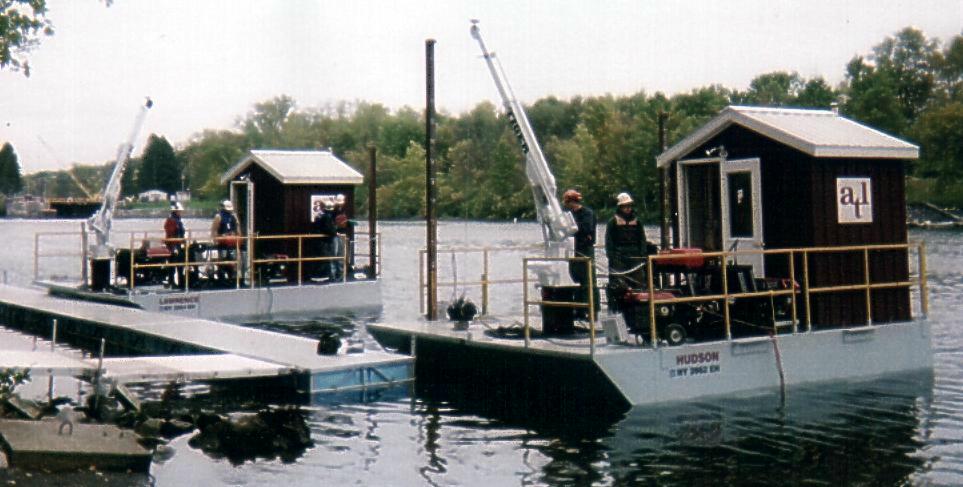 30' x 12' x 3'
Sectional Lark built to be used as a 30' x 24' x 3' or 2-30' x 12' x 3's. Completely turn key with new
Yamaha 225 hp outboard engines. Spud wells, spuds, and spud winches were options included.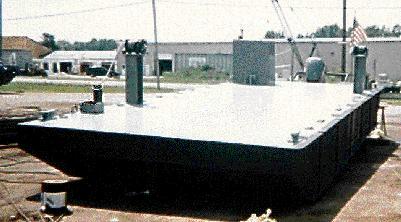 Call today for quote with the options you want.
The two pictures below show each section with our standard sectional connector system.
4" pipe motor guards on each section. Standard control stands with side railing.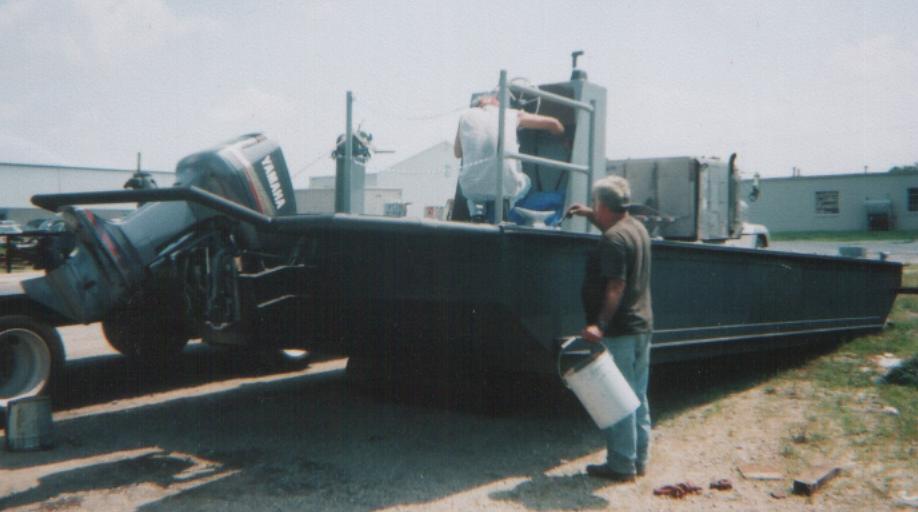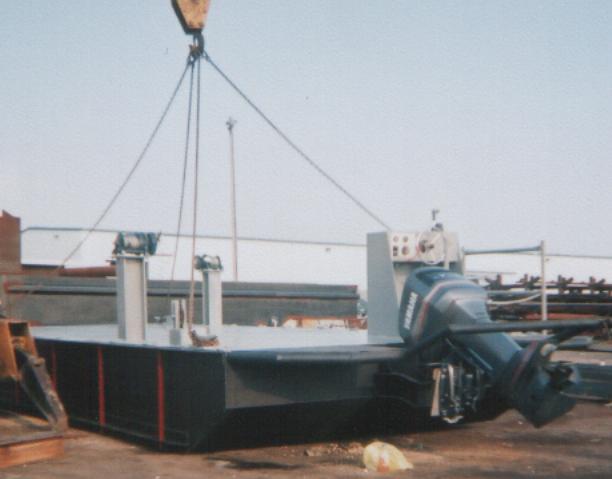 The Lark pictured below is double raked. Double rakes are optional if needed.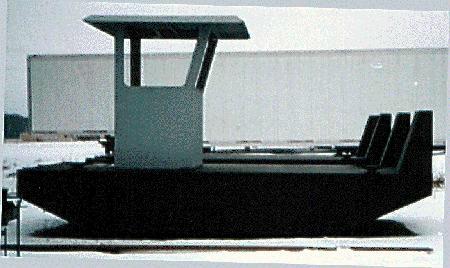 The picture below is a standard Lark with a 3' x 3' engine well cut out. The well is designed to protect
the outboard motor from getting damaged or knocked off the boat. The well is optional.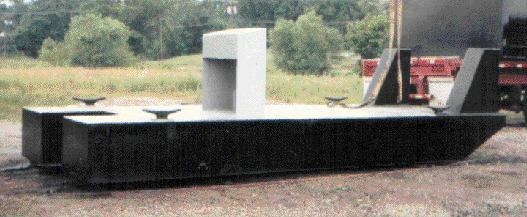 The picture below is of a 20' x 8' x 2' Lark built of 3/16" steel. Light weight Pilot house with standard
storm windows, which is not our standard marine window, but works well for the money. Twin
outboard motor bracket and 3' push knees.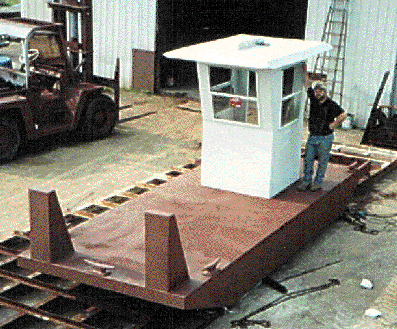 This picture offers a loading ramp with winch and king post. Easy for transferring material
or equipment. The 6" side walls was installed to keep material from sliding off the deck.
Control stand with safety hand rails and the built in tool box occupy the stern end.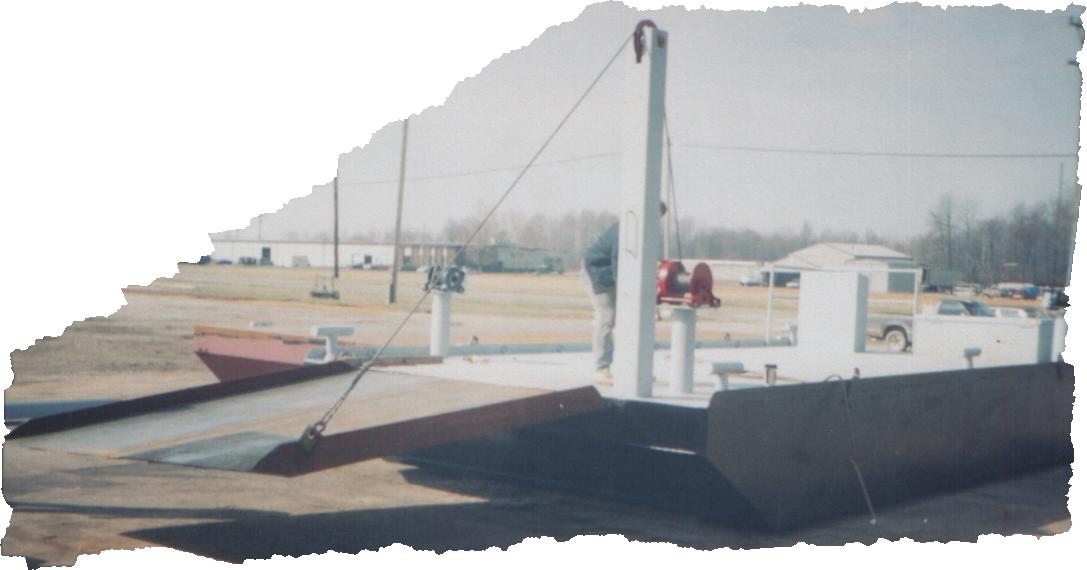 email Mack Breeck
Madison Boat & Barge
812.265.6255